General:
Turnaround time varies depending on the quantity and product(s) ordered. We strive to complete all orders faster than you expect them, though there are many factors involved such as: supply chains and material availability, current orders on our press schedule, current UPS and USPS shipping times, etc. Rush orders are also often a possibility but may be subject to extra productions & shipping fees.
CONTACT US
today to discuss your particular needs.
We accept High Resolution or Vector Files that are:  PDF, AI, EPS, .SVG, PSD, TIFF, JPG, and PNG image files.
Disclaimers:
Ace High Printing is NOT responsible for the art you send us. Our print quality directly correlates with the quality of the file you provide. Simply put – if you send us low quality/resolution art, you're going to get a pixelated and blurry printed product. Please follow the File Requirements above.
Art MUST be received within 30 days of payment – Otherwise we consider it "abandoned" and you forfeit your opportunity for a refund, unless otherwise specified or previously discussed. No exceptions.
Ace High Printing is NOT responsible for what you do with your printed products. We encourage you not to litter or deface property with our products. Once the materials leave our shop, we are no longer liable for where they end up.
Templates:
When using any of our Templates, you'll notice they all have 3 lines:
–  The INNER Line is the Safety Zone Line.
– The MIDDLE Line is the Cut Line – the edge that your art will be trimmed to.
– The OUTER Line is the BLEED Line – Your background art should extend out this far, but this area will be trimmed off during the Cutting phase of Production.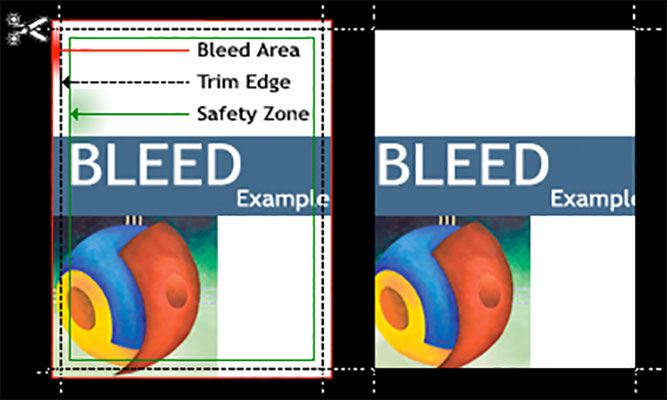 Click on the Bleed and Safety Zone links below for more information.
We love custom work! Our professional team is ready to bring your project to life.